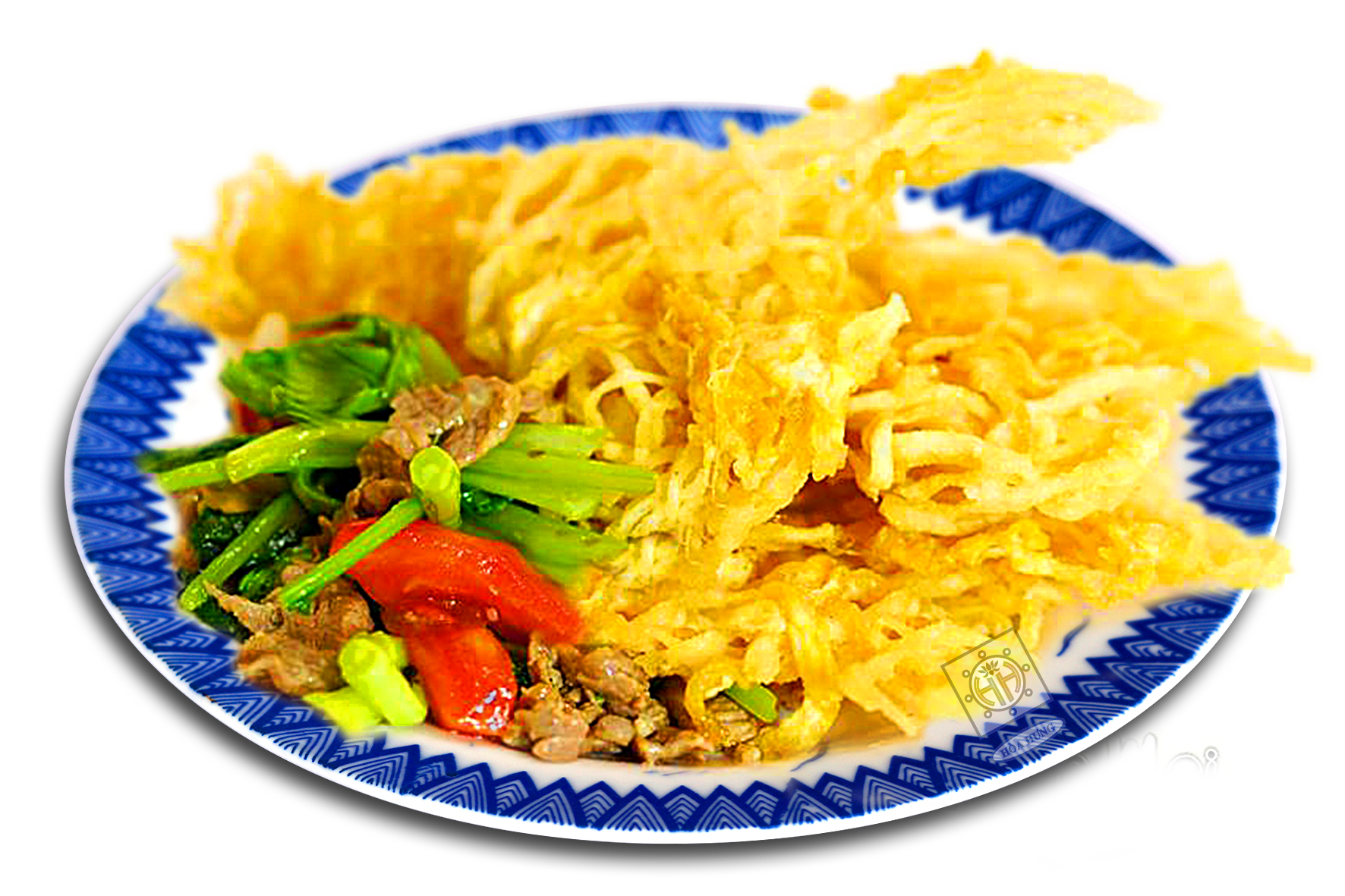 Ingredients: for 2 people to eat

- 200g Hoa Hung dry pho
- 3 Chicken eggs
- 100g of beef
- 100g of choysum
- 1 tomato
- 10g minced garlic
- 1 white onion
- oyster oil, soy sauce, oyster oil, sugar, salt, seasoning seeds, cooking oil.


Perform:

1. Preliminary processing of raw materials:

- Wash the cabbage, cut the pieces.

- White onion and cut tomatoes.

- Thai beef, marinated with garlic, oyster oil, salt, fish sauce, pepper.

2. Fried pho:

- Hoa Hung dry pho: Put noodle in a pot of boiling water, cook for 6-7 minutes. Picked out. Rinse through cold water. Drain and mix 3 eggs.

- Getting hot pan. Place in the pan about 2-3 tablespoons of oil, let the heat heat, add the noodle cake, sprinkle the noodle cake evenly over the bottom of the pan, not too thick, use the chopsticks to crank the noodle cake to make it evenly round. If you like crispy noodles, make thin noodles and use more oil. Low heat.

- After 5-7 minutes, the noodle cake will stick together, and golden. Use the grit to turn the cake surface, wait for the cake on the bottom to turn yellow.

3. Stir-fry vegetables and meat:

- Put the vegetables in a pot, boil it, take it out, cover in cold water, and drain.

- Catch a hot pan for cooking oil, garlic, and shallots in a sautéed gold, then add the tomatoes and fry to soften, add half a cup of water. Then add the cabbage and beef. Should taste the spices to taste. When the cow is slightly pale, add the onions. Stir fry well and turn off the heat.

4. Finished products:

Place the pho on a plate, put the beef and vegetables stir-fry on top, add pepper and cilantro.

Serve with soy sauce and chili sauce.