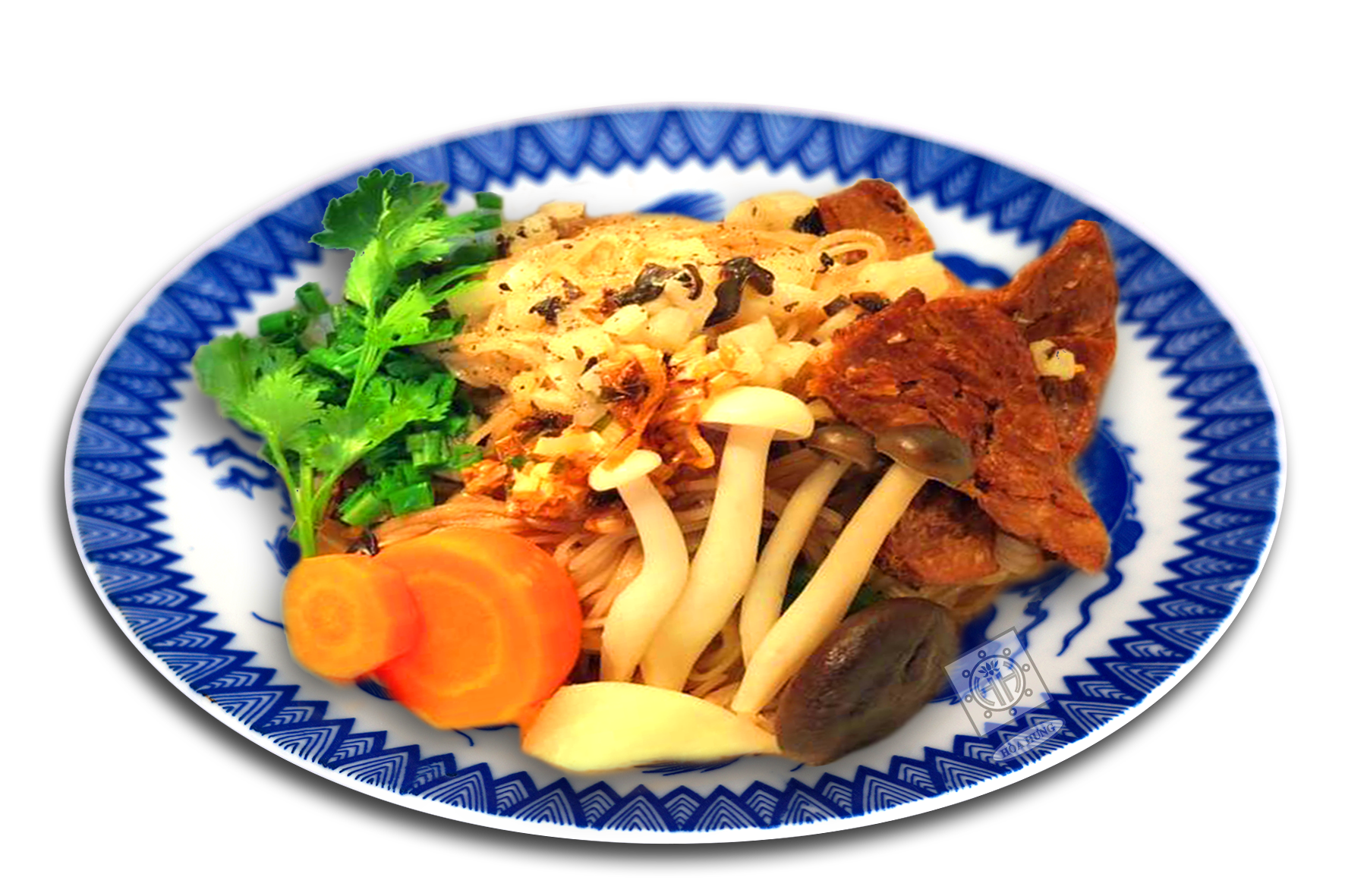 Ingredients: for 3 people to eat

- 3 packs of Hoa Hung instant noodles or 300g of Hoa Hung dry noodles

- 1 carrot

- 1 white radish

- 2 cassava roots

- 1 American corn

- 2-3 mushroom ears

- Some cabbage leaves

- 15 g of shiitake mushrooms

- 100g of mushrooms

- 100g of lingzhi mushrooms

- 10 slices of vegetarian pork

- 1 dry tofu leaves

- 1 spring onion boaro, cilantro, bean sprouts, chives, canola

- Vegetarian oyster sauce, soy sauce, sugar, salt, pepper, vegetarian seasoning powder

Perform:

1. Preliminary processing of raw materials:

- Carrots cut thin slices

- Chinese cabbage cut into small pieces.

- Shiitake mushrooms, cut in half.

- Soft soaked mushrooms and cut puree.

- Cassava tubers chopped pomegranate seeds 1 bulb, cut 1 bulb long small pieces.

- Vegetarian pigs are soaked in water so that they are soft, washed and dried.

- Crispy fried tofu tofu

2. Processing:

- Cooking soup: Add radish, 1 cassava, 1 corn in 2l of broth for fresh water. Simmer for 30 minutes, put the mushrooms and carrots in the broth. Seasoning to taste.

- Non-fragrant boaro, take out half, then add shiitake and Ganoderma to fry, add spices to absorb.

- Add vegetarian pork slices to fry for fragrant, add pepper, oyster oil, a little water, season to taste. Then let the pork slices evenly absorb the spices, turn off the heat.

- Vegetarian sauce: Non-boaro add golden aroma, mushroom, tapioca roots, stir-fry, add 2 tablespoons oyster oil, 1 tablespoon soy sauce, sugar, salt. Dissolve 2 tablespoons of flour in a cup of water and pour in quickly, stirring, over high heat, into a thick paste and turn off the heat.

3. Processing of noodles:

* Hoa Hung instant noodles: Dip in cold water, take out, and put in a bowl. Pour boiling broth to use immediately.

* Hoa Hung dry noodles: Put the dried noodles in a pot of boiling water, cook for 3-4 minutes. Picked out. Rinse through cold water. Drain and mix well with a little oil.

4. Finished products:

Put noodles on a plate, sprinkle sauce on top, put Ganoderma lucidum and shiitake mushrooms, deep-fried tofu and vegetarian pork slices, sprinkle pepper, fried boaro, and cilantro on top.

Scoop the soup into the cup. Add pepper, cilantro.
Serve with lemon, chili, chili, Can Tau, soy sauce.