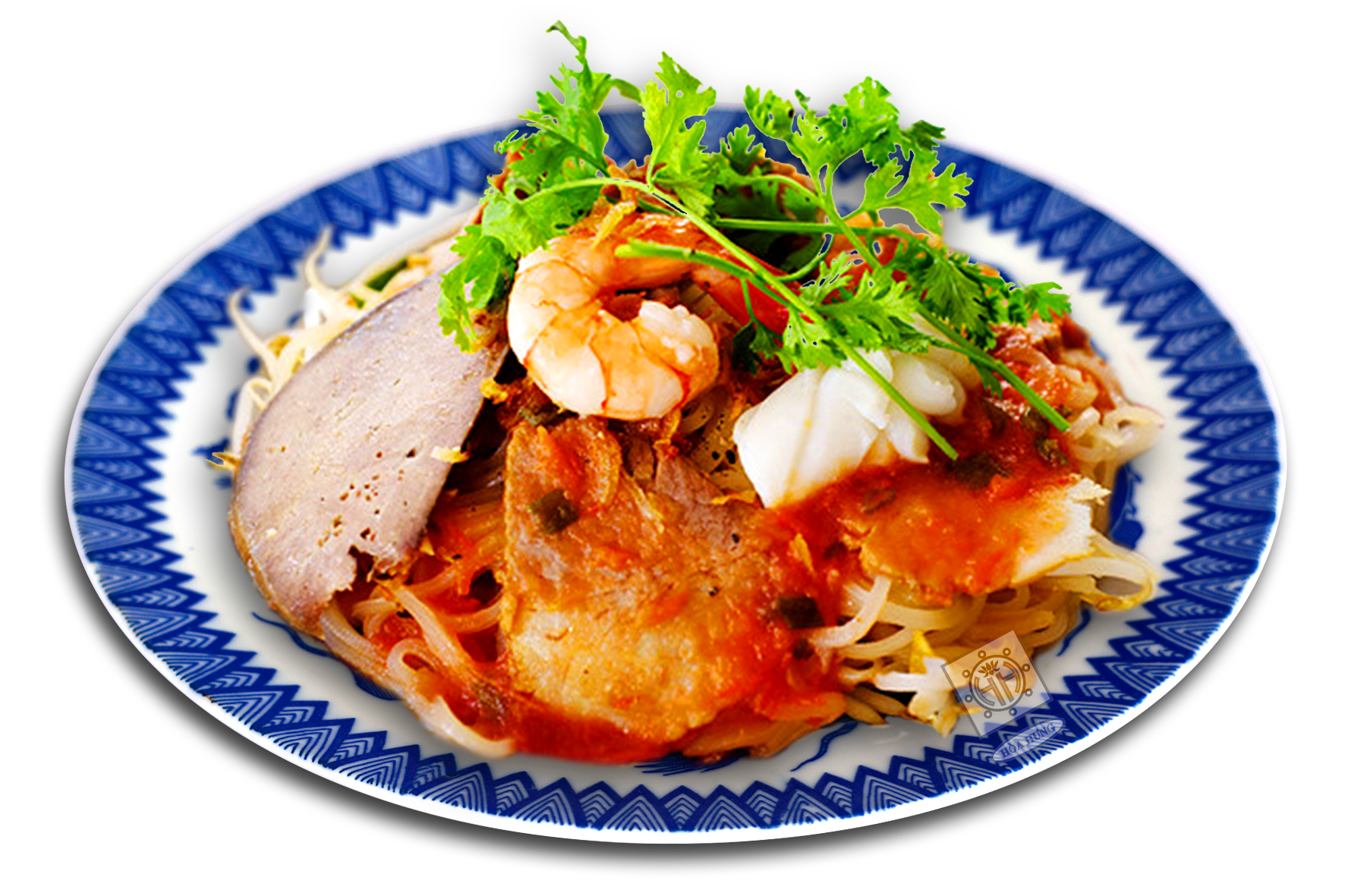 Ingredients: for 5 people to eat

- 5 packs of Hoa Hung instant noodles or 500g of Hoa Hung dry noodles

- 200g tenderloin

- 200g pork liver

- 200g pig heart

- 1kg of pork bone

- 1 cassava tubers

- 1 white radish

- 1 carrot

- 2 pig brains

- 300g tomatoes

- 100g live price

- 50g shallots, scallions 50g

- Cilantro, need boat 50g

- Dried squid small 50g

- 3 tablespoons flour

- Ginger, garlic, chili, purple onion

- Soy sauce, oyster oil, spices, cooking oil.

Perform:

1. Preliminary processing of raw materials:

- Minced garlic, purple onion, chili. Keep aside.

- Wash the living rack. Wash chives, cut into long pieces.

- Cut carrots chopped long enough to eat.

- Cut white radish cut to length to taste.

- Cassava tubers cut into small pieces to taste long.

- Tomatoes pureed.

2. Make soup:

- Grilled dried squid, 3 purple onions, 1 piece of ginger

- Catch boiling water for pork bones, grilled dried squid, 3 purple onions, 1 piece of ginger, 2 green onion plants. Stew for about 30 minutes. Then, put the cassava, white radish, and carrot into the cellar until the soft root is stored.

3. Boiled meat, heart, liver:

- Catch boiling water. Braise pork, heart, liver and pig brain. Then put in the pot of cooked broth. Picked out, let cool. Cut small pieces to taste.

4. Make a sauce:

- African purple onion.

- Fry garlic, minced and add tomatoes, add a little soy sauce, oyster oil. Dissolve 3 tablespoons of flour in a cup of water and pour into a pan into a paste and turn off the heat.

5. Processing of noodles:

* Hoa Hung instant noodles: Dip in cold water, take out, and put in a bowl. Pour boiling broth to use immediately.

* Hoa Hung dry noodles: Put the dried noodles in a pot of boiling water, cook for 3-4 minutes. Picked out. Rinse through cold water. Drain and mix well with a little oil.

6. Finished products:

Pour rice noodles into a plate, sprinkle the sauce over the face, mix well. Put the meat, liver and heart on top. To add onion, pepper, onion and cilantro.

Scoop the soup into the cup, put the pig brain in. Add pepper, cilantro.
Serve with lemon, chili, chili, Can Tau, chives, soy sauce.