PROUD TO BE A SAFE TRADITIONAL VILLA PRODUCT
Inheriting and promoting the traditional profession, Hoa Hung produces the first new product line that is the first and unique product, pho tràng.
Pho is poured directly on the kitchen, so it is boiling, hot, watery, and cooked, so it's afraid that it's very chewy, thick, and extremely different and attractive. Bring a feeling of fullness and feel the full deliciousness and sweetness of rice flour in each noodle when enjoying. Let's experience new flavors with Hoa Hung.
COOKING INSTRUCTIONS:
­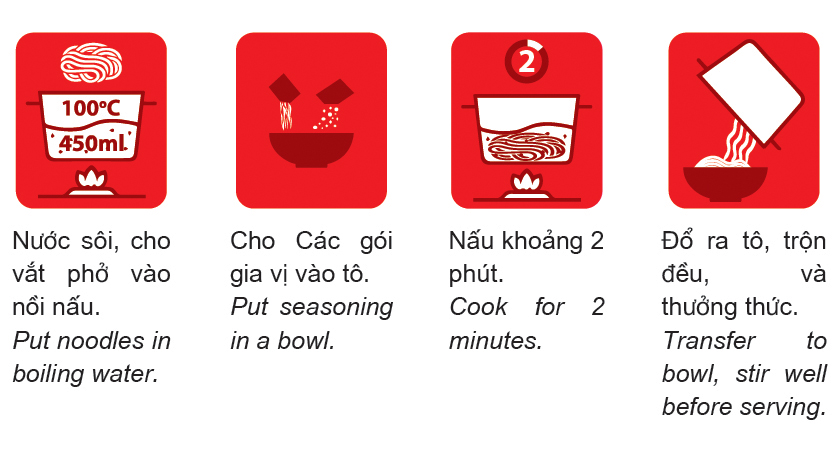 INGREDIENTS:
Noodles: Rice, tapioca starch, water, salt.
Seasoning package: Salt, sugar, flavor enhancer (monosodium glutamate 621), stewed beef flavor, soy protein, carrot, pepper, scallion, garlic, scallion, refined vegetable oil.
NUTRITION FACTS:
Serving size per pack 60g:
- Energy value: 184.4Kcal
- Fat (Lipid): 1.6gr
- Protein (Protein): 2.5gr
- Carbohydrate: 40gr
STORAGE:
Store in clean and cool place. Keep away from direct sunlight.
HOW TO PACKING:
Net weight: 1,8kg (30 packs x 60g)