PROUD TO BE A SAFE TRADITIONAL VILLAGE PRODUCT
Ready-to-eat products with convenient properties, easily have a delicious and nutritious meal in no time. With delicious chewy noodles that are typical of Sa Dec, blended with the delicious broth from vegetables and stewed bones, bringing an unforgettable taste in each bowl of noodles. The product uses completely natural ingredients, does not use preservatives and harmful chemicals. Certified as a quality product safe for public health. Enjoy the delicious noodle bowls with Hoa Hung.
COOKING INSTRUCTIONS: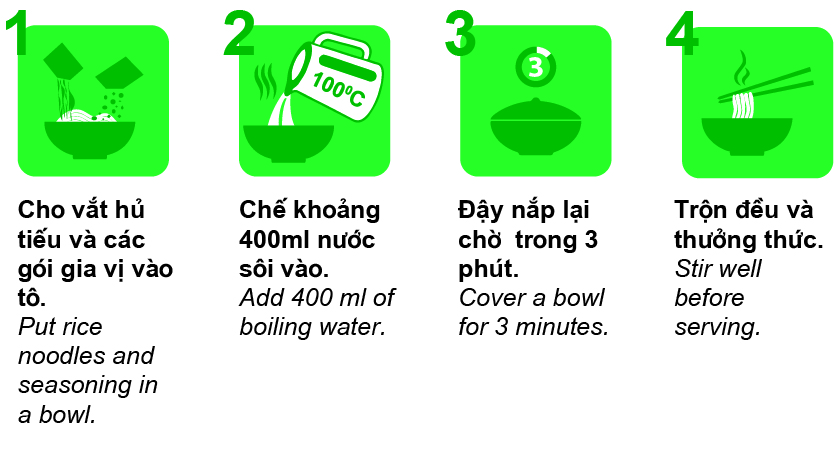 ­
INGREDIENTS:
Noodles: Rice, tapioca starch, water, salt.

Seasoning package: Salt, sugar, flavor enhancer (monosodium glutamate 621), pork flavor powder, soy protein, carrot, pepper, scallion, garlic, onion, refined vegetable oil.
NUTRITION FACTS:
Serving size per pack 60g:
Energy value: 184.4Kcal

Fat (Lipid): 1.6gr

Protein (Protein): 2.5gr

Carbohydrate: 40gr
STORAGE:
Store in clean and cool place. Keep away from direct sunlight.
HOW TO PACKING:
Net weight: 1.8kg (30 packs x 60g)