PROUD TO BE A SAFE TRADITIONAL VILLA PRODUCT
Inheriting and promoting traditional craft, Hoa Hung produces the first new product line that is unique and unique: noodle soup.
Noodles are placed directly on the kitchen so they are boiling, hot, well-hydrated and cooked, so they are afraid of being very chewy, thick, extremely different and attractive. Bring a feeling of fullness and feel the full deliciousness, sweetness of rice flour in each noodle when enjoying. Let's experience new flavors with Hoa Hung.
COOKING INSTRUCTIONS: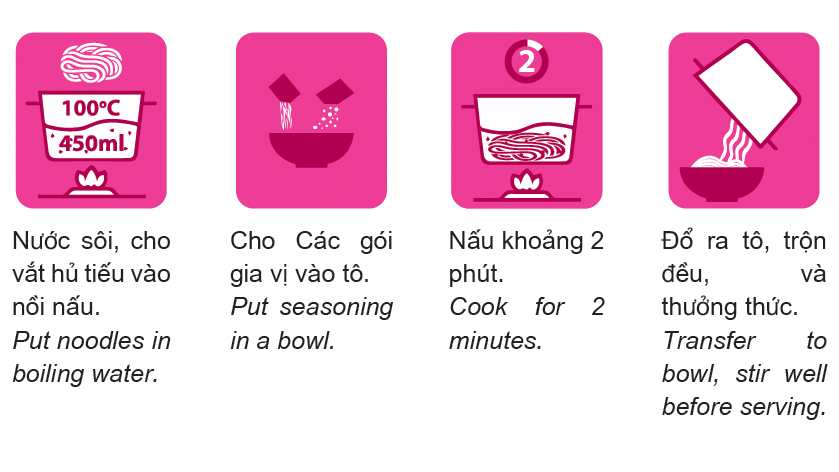 INGREDIENTS:
Noodles: Rice, tapioca starch, water, salt.
Seasoning package: Salt, sugar, flavor enhancer (monosodium glutamate 621), pork flavor powder, soy protein, carrot, pepper, scallion, garlic, onion, refined vegetable oil.
NUTRITION FACTS:
Serving size per pack 60g:
- Energy value: 184.4Kcal
- Fat (Lipid): 1.6gr
- Protein (Protein): 2.5gr
- Carbohydrate: 40gr
STORAGE:
Store in clean and cool place. Keep away from direct sunlight.
HOW TO PACKING:
Net weight: 1,8kg (30 packs x 60g)