TỰ HÀO LÀ SẢN PHẨM LÀNG NGHỀ TRUYỀN THỐNG SAĐÉC
Kế thừa và phát huy nghề truyền thống, Hòa Hưng sản xuất ra dòng sản phẩm mới đầu tiên và riêng biệt đó là hủ tiếu trụng.
Hủ tiếu được trụng trực tiếp trên bếp nên đủ độ sôi, độ nóng, đủ nước và chín đều nên sợ hủ tiếu rất dai, dầy, vô cùng khác biệt và hấp dẫn. Mang đến cảm giác đầy đặn và cảm nhận được trọn vẹn vị thơm ngon, ngọt ngào của bột gạo trong từng sợi hủ tiếu khi thưởng thức. Hãy cùng trải nghiệm những hương vị hoàn toàn mới cùng Hòa Hưng.
COOKING INSTRUCTIONS: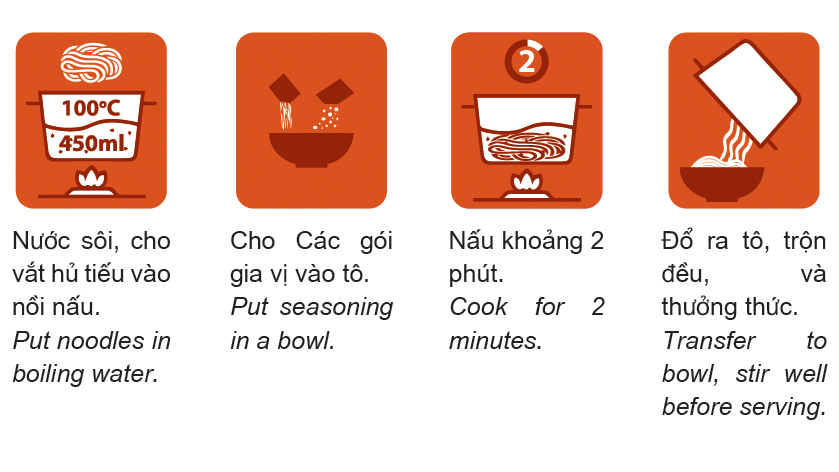 ­
INGREDIENTS:
Noodles: Rice, tapioca starch, water, salt.
Seasoning package: Salt, sugar, flavor enhancer (monosodium glutamate 621), Ajingon shiitake and lotus seeds, soy protein, carrot, pepper, scallion, garlic, scallion, refined vegetable oil.
NUTRITION FACTS:
Serving size per pack 60g:
- Energy value: 184.4Kcal
- Fat (Lipid): 1.6gr
- Protein (Protein): 2.5gr
- Carbohydrate: 40gr
STORAGE:
Store in clean and cool place. Keep away from direct sunlight.
QUY CÁCH ĐÓNG THÙNG:
Net weight: 1,8kg (30 packs x 60g)